Helping Develop A Home and Vibrant Residential Community for Students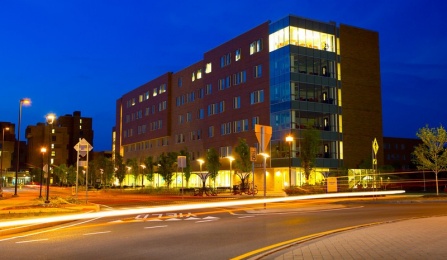 Greiner Hall—named one of America's Best Buildings of the Year—is a shining example of the real estate management services we provide in support of the university.
As the University at Buffalo has grown its reputation around the world, the effects have been felt here at home—including an increased demand for on-campus student housing.
Helping UB respond quickly to changing needs
To help meet this critical demand, UB developed William R. Greiner Hall—a new residence hall for up to 600 undergraduates, located on UB's North Campus. The UB Foundation has a key role in the ongoing success of Greiner Hall, which is just one of the facilities constructed through one of our affiliates, UBF Faculty-Student Housing Corp., which offers extensive real estate management services in support of UB.
Serving hundreds of students each year
Greiner Hall features numerous amenities designed to attract students, including a 50-seat café, multi-use classrooms and fireplace lounges. Named for the late William Greiner (UB's 13th president), Greiner Hall is based on the "learning landscape" model from the university's UB 2020 strategic plan, and is specifically designed to enhance the student experience.
As UB's newest residence facility, Greiner Hall was also designed to meet best practices in accessibility and universal design, including adaptable or accessible bathrooms, appliances with controls that are easier for wheelchair users to reach, and high-contrast finishes to help distinguish spaces for those with poor eyesight.
Helping UB 'go green'
Designed to earn a gold rating under the U.S. Green Building Council's Leadership in Energy and Environmental Design (LEED) rating system, Greiner Hall features numerous eco-friendly features, including:
Floor tiling made from recycled soda bottles
Showers for staff and faculty who ride their bikes to UB
A reflective roof coating to help keep the building cool in summer
Irrigation that draws water from an on-campus lake